If you recently experienced a work-related injury, you may wonder when you should visit a neurologist. The short answer to this question is "as soon as possible."
Researchers with the Department of Veteran's Affairs recommend screening for neurological injuries within 24 hours of the injury. Prompt treatment is vital for several reasons.
If you suffered an injury from a workplace accident, see a workers' comp neurologist for an assessment as soon as possible to identify and treat potential spinal and brain injuries. 
Why You Should Have a Professional Neurological Exam Within 24 Hours of a Head, Neck, or Back Injury
People wait to see the doctor for many reasons after an injury. Many people are anxious around doctors or intimidated by the prospect of medical bills and complex workers' compensation paperwork. Others don't want to believe their work-related trauma could be severe and don't want their families to worry. Putting off seeing a neurologist could have far-reaching consequences.
Nearly

20%

of work-related injuries and 46% of falls involve Traumatic Brain Injury (TBI). 

Workers who return to work with a brain or spinal cord injury could injure themselves or others if they return to work too quickly.

An undiagnosed brain injury, such as a slow brain bleed could become catastrophic, often with little warning.

An injured worker with an untreated brain or spinal cord injury could be a safety hazard to themselves or others if they return to duty.
In addition to the medical benefits, an early assessment of TBIs and SCIs from a workers' comp neurologist allows you to start the process of claiming benefits for your injuries. If you become a party in litigation over workplace benefits later or if an insurance company denies your claim, being able to document the extent of your injuries early on could provide support for your case.
According to Health Digest, you should go to the hospital for treatment if you experience any of the following symptoms after a head injury,
Nausea or vomiting

Bleeding

Seizures and loss of consciousness

Buzzing in the ears

Pupils that are not the same size (a "blown" pupil) or dilated pupils
Each of these symptoms can indicate a severe injury or evidence that your brain no longer responds normally to the environment. Some symptoms of TBI might get better over time, while others might get worse or become life-threatening. The unpredictable and complex nature of TBIs means that any delay in seeking treatment could have life-changing or even fatal consequences. 
When the hospital admits you for a work-related injury, OSHA requires that your employer report the incident within 24 hours. You will also be able to provide information about the hospitalization and medical treatment you receive as a result of the injury on the NY State employee claim form to the Workers' Compensation Board.
Seeking treatment early with a qualified workers' comp neurologist allows you to lay the groundwork for your claim and might allow you to receive benefits sooner.
The Risks of Going Back to Work With an Undiagnosed Brain or Spinal Cord Injury
You could have more problems and a risk of serious injury if you return to work while your brain is still recovering from an undiagnosed injury.
Second Impact Syndrome
Second Impact Syndrome (SIS) is an uncommon but life-threatening effect of two concussions occurring within a short period of time. Although the specific cause of SIS is not yet clear, inflammation in the brain and the nervous system appears to play a role. The effects of SIS can be sudden, so there might not be time to seek help if you suffer a second concussion at the workplace.
Lapses in Memory and Attention
A TBI can interfere with your ability to focus, recall information, and carry out complex tasks. Without a diagnosis from a workers' comp neurologist, your employer might blame you for any changes in your work performance.
Vision Problems
If your job requires reading, filling out forms, driving, operating machinery, or any visual tasks, you might find them more difficult due to light sensitivity, blurred vision, or blind spots in your field of vision. 
Incontinence
Bladder incontinence or urine retention can occur if the bladder is not receiving proper signals from the brain. Aside from the embarrassment, bladder issues could indicate pressure on sensitive nerves in your neck or back, which could lead to long-term pain, numbness, weakness, or other issues.
Other Long-Term Effects
According to the CDC, only 26% of people who suffered a TBI improved over five years. The rest either stayed the same, became worse, or died.
The National Institutes of Health warn that traumatic brain injuries can increase the risk for many intermediate and long-term effects, including:
Blood clots

Alzheimer's Disease

Sensory and perceptual problems
Workers who suffer a TBI cannot assume they will "bounce back" from their injury and return to work with the same level of ability as before. A professional neurological assessment will help you and your family develop a clear prognosis.
Finding an Experienced NYC Workers' Comp Doctor  
If you need a qualified workers' compensation doctor, NYC has many options. Look for specialists and surgeons who are:
Leading professionals in their fields.

Compassionate healthcare providers.

Proficient and experienced in handling workers' compensation insurance claims.

Conveniently located in the NYC area.
Experienced and Understanding Neurologists in NY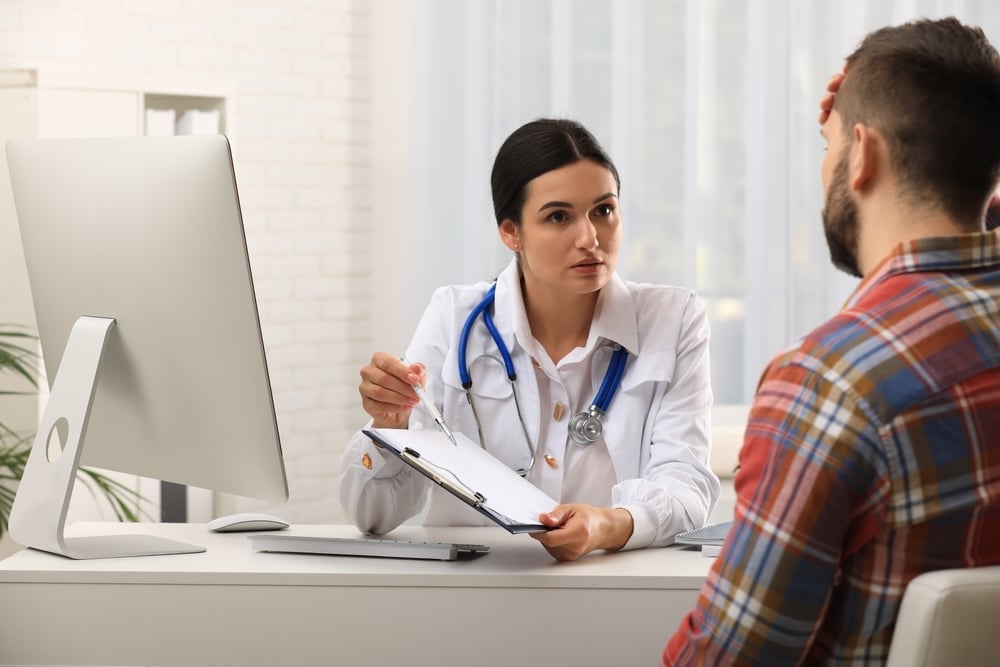 A workers' comp neurologist in NYC needs to do all of the above and have up-to-date, detailed knowledge of the neurological, psychological, and physiological effects of brain and spine injuries.
Do you need an outstanding team of workers' comp neurologists in NY who devote their time and energy to helping workers understand their workers' compensation benefits and navigate the often complex worker's compensation insurance claims process? Look no further than the Neurodiagnostics Medical P.C.
The Neurodiagnostics Medical P.C. offers free neurological screenings for workplace injuries at many convenient locations in the NYC Greater Metropolitan Area. Our doctors accept workers' compensation insurance, no-fault, PIP, and many other health insurance plans.
Take control of your health and your financial future after a workplace injury. Don't wait for your symptoms to get worse. Speak with an outstanding workers' comp neurologist today. Book an Appointment.